Areas We Service
Shasta & Tehama Counties Roofing Services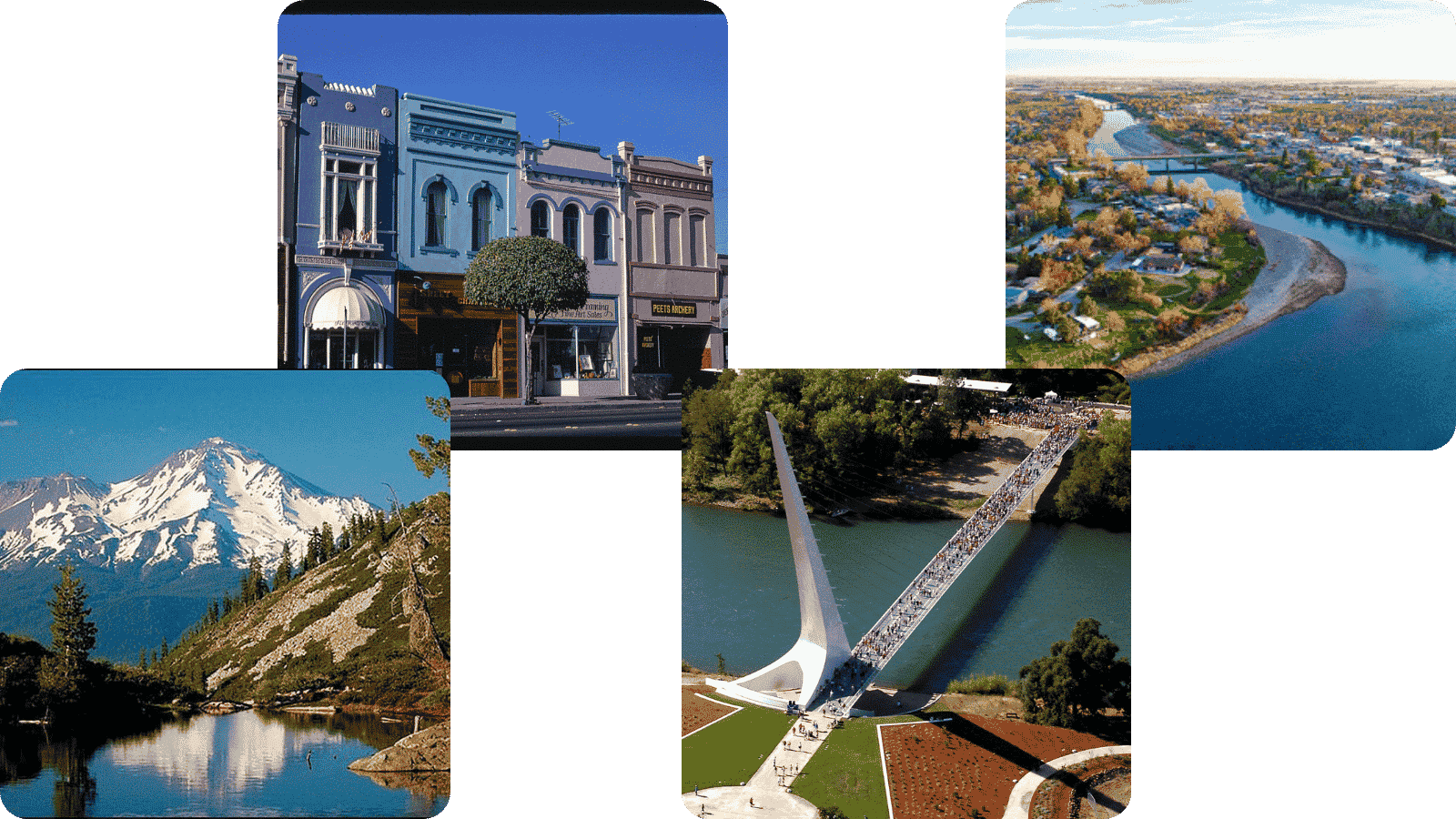 Shasta & Tehama County Residential Roofing Experts
Shasta & Tehama counties are located in the far northern portions of California and only one county away from Oregon, Idaho & Nevada. Known for their incredibly hot Summers, often exceeding 100oF for days (if not weeks) at a time, followed by very short & wet Winter storms. Most people are shocked to find out that Redding, CA gets more annual rainfall than Seattle. The key is that it gets all of that rainfall in a matter of days. These extreme weather conditions put an inordinate amount of wear & tear on all kinds of things. It is common to see vehicle paint highly faded or torn off completely, wooden fencing bending and falling apart, the breaking up of concrete sidewalks & certainly asphalt driveways & finally the reduction in the overall life of normal roofs.
Most roofs are comprised of asphalt fiberglass shingles. Extreme heat in the Summer softens the materials that bind these shingles and over time can completely disintegrate them. When the rains start to come, it is common for people to see asphalt granules coming down their gutter downspouts. This is a major sign that your roof life is over and you should replace your roof as soon as possible. The Northern California valley stretching from Corning up through to Redding is known for shortening the life of a normal roofing shingle by up to 30%. So the standard thirty-year asphalt shingle may not last much more than twenty-two to twenty-four years. There are certain things you can do to mitigate this problem, including yearly roof maintenance, not having anyone walk on your roof when the temperature exceeds 90oF, and choosing the best possible shingle when you do get a residential reroof.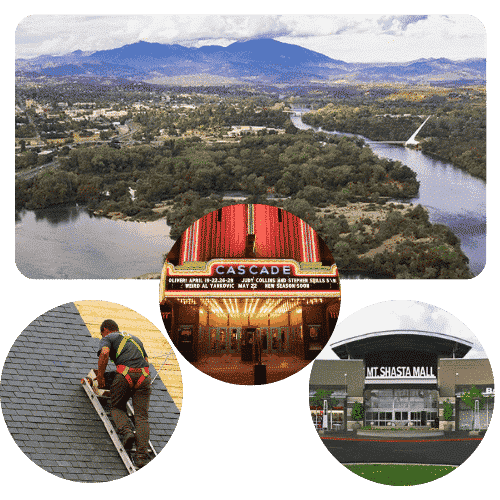 Redding, CA
Redding is the largest populated city north of Sacramento in California. Well over 100,000 people live in the greater Redding area and use the services uniquely offered only in Redding. The two hospitals, Costco, movie theaters, and much more all make Redding the central hub for the outlying towns like Palo Cedro, Anderson, Shasta Lake, Cottonwood, Shingletown & more. Redding boasts some of the most beautiful outdoor scenery, including the Sundial Bridge, Turtle Bay, multiple easy access points to the Sacramento River, and more.
The cost of single-family homes in Redding is way below the California average. Prices are in a constant state of fluctuation and Redding continues to grow quite a bit year over year. COVID-19 triggered a wave of migration, as people left the major cities all along the West Coast and started to move into more rural areas like Redding and the surrounding towns. This has caused the purchase price to go up quite a bit in the last few years. This is great news for existing homeowners and people wanting to sell their homes but has been tough on first-time home buyers.
Experienced Roofing Company

Jay Nations, the owner of NorCal Roofing has over 30 years in the roofing industry in Northern California. Jay originally started roofing in high school in Arcata, CA. After graduation he moved down to the Bay Area where construction was in full gear and quality roofing labor was in high demand.
In 1997, Jay moved to Redding and worked for Gary Benson with Benson Roofing. He eventually became co-owner of Benson Roofing and ran several roofing crews, replacing existing residential roofs and installing new roofs on new construction homes.
Jay broke his leg in an accident outside of work & he was unable to work for over a year. In that time, his partners bought him out of Benson. When he was ready to re-enter the workforce, he went to work for his good friend Jeff Tugwell at Tugwell Roofing. Jay spent over a decade working at Tugwell as a team lead and master carpenter.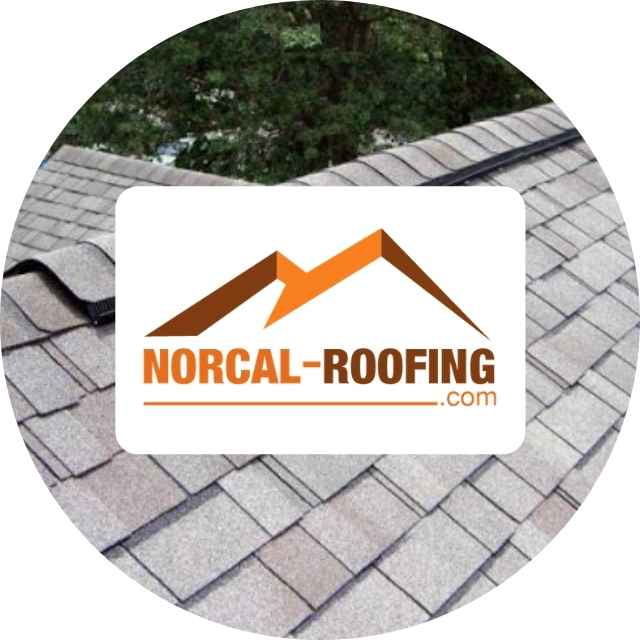 In 2020, Jay decided it was time to be a Roofing company owner again and he started NorCal Roofing. Jay and his team focus on delivering the highest quality craftmanship in residential roofing & re-roofing. Primarily offering asphalt shingle roofs, but also installing metal roofs when requested.
Palo Cedro, CA
Palo Cedro is a small rural community that sits just East of Redding. Known for small ranchettes and homes on acreage, Palo Cedro does offer some needed daily amenities. One Grocery store, a small medical clinic, and a few restaurants outline the services offered within the town limits. For services beyond those, people use Redding as their main service hub. It is common for people living in Palo Cedro to have farm animals like horses, cows, goats & chickens, and homes on 1 or more acres are very common. Palo Cedro has identical weather as Redding (as it is only 7 miles East of Redding) and so has the same issues with a roof replacement. It is more common to find cement tile roofs in Palo Cedro on average than in other places. More and more homeowners are replacing their cement tile roofs with metal or asphalt shingle roofing materials. We have replaced many cement tile roofs in the Palo Cedro & Millville areas with asphalt & metal roofing materials.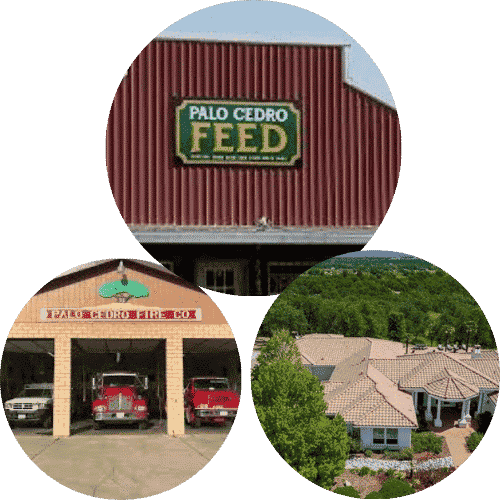 Our primary focus is customer service! First and foremost, the most important thing is ensuring our customers get the best possible products and service for their home. From the products we choose, like PABCO Premier & Paramount Advantage shingles, to the training that we give all of our employees, our focus is customer centric.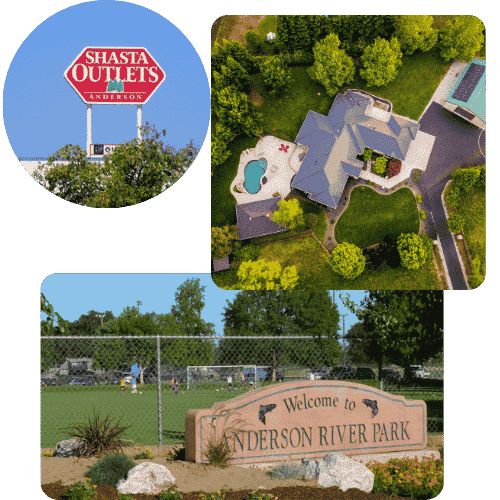 Anderson, CA
Anderson is slowly becoming a small bedroom community to Redding. Located immediately to the South of Redding, Anderson offers up homes with a little more space and some more affordable housing prices. Wal-mart has built a large shopping center directly next to an outlet store facility giving Anderson quite a few shopping offerings for how small the Anderson population is. Weather in Anderson is identical to Redding and the Sacramento River runs through portions of Anderson offering up some reprieve from the sweltering heat. The older homes in Anderson are on the smaller square footage size, often below 1200 square feet, but the newer subdivisions being built have increased the overall average square footage. There are many homes that sit on acreage in the Anderson area, as Anderson itself ranges from Dersch Road in the East all the way to Olinda & the Igo/Ono areas in the West. Anderson borders Redding in the North and Cottonwood in the South, giving Anderson quite a bit of open space.
Shasta Lake City, CA
Shasta Lake City is located just north of Redding and borders along portions of Lake Shasta. Previously it was three different communities known as Central Valley, Project City & Summit City. Some time ago, the three communities were combined and incorporated into Shasta Lake. Shasta Lake City has a wide range of housing from old "Dam" homes that were moved from the base of the Shasta Dam when it was being built in the 1930s to brand new developments like Windsor Estates & Tierra Oaks. The average price of a home in Shasta Lake can be deceiving as there are two distinct offerings, one very low in price and the other very high. Shasta Lake City is a recreational dream with quick access to Lake Shasta and not far from Whiskeytown Lake, Sacramento River, Cascade National Park to the North, and much, much more.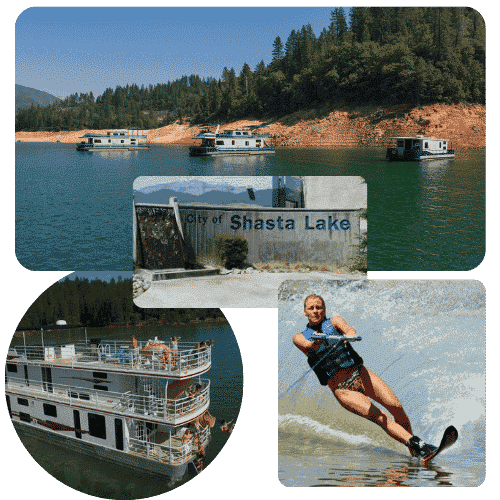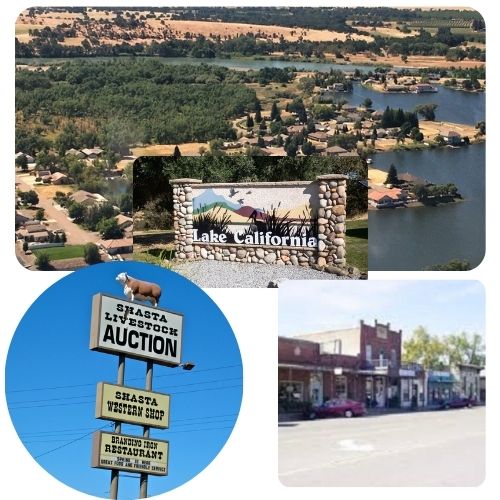 Cottonwood, CA
Cottonwood California is located just south of Anderson and borders both sides of the Shasta & Tehama County lines, Northern Cottonwood is in Shasta County & Southern Cottonwood is in Tehama County. You will find quite a few ranches, farms, ranchettes, and homes on acreage in the Cottonwood area. The Shasta County Livestock Auction takes place in Northern Cottonwood and is a popular attraction for the ranchers in the Northern California, Southern Oregon, Idaho & Eastern Nevada regions.
Cottonwood weather is identical to Redding with extreme heat in the Summer and a short and "hard" rain schedule in December through February (normally). Asphalt shingle roofs tend to not last nearly as long as they should in this part of California. This is a big reason you see quite a few metal roofs in Cottonwood.
Cottonwood is also home to the Lake California gated community. A man-made lake surrounded by 100s of homes developed originally in the late 1960s and early 1970s, Lake California is located just a few minutes South of Redding.
The community encompasses approximately 5,950 acres, with 2,200 plus lots, which features spectacular views of Mt. Lassen, Mt. Shasta and the Trinity/Siskiyou Mountain Ranges.
Within the community are a variety of amenities for the private use of community members and their guests: a large lake for boating and fishing, a community swimming pool, tennis courts, an airport landing strip, an equestrian center for boarding horses, a lakeside clubhouse and lounge for meetings and community events, a Sacramento River boating and fishing access site near world famous fishing holes, a campground suitable for large RV's or motor homes, parks and miles of open trails.
Shingletown, CA
Shingletown California is a wonderful small community located on the edge of the Lassen National Forest, just a few minutes East of Redding (about 20 minutes). Known for its incredible natural beauty and living among the trees. Homes there are often situated on several acres and normal "subdivisions" are not common. Metal roofs and even wood shake roofs are far more common on homes than in the rest of California. Temperatures are often several degrees lower than in the valley below, so when it is a 100 degrees in Redding, it is often 90 degrees in Shingletown. Shingletown also frequently gets snow in the Winter, which is highly uncommon in the Redding/Anderson/Cottonwood region.